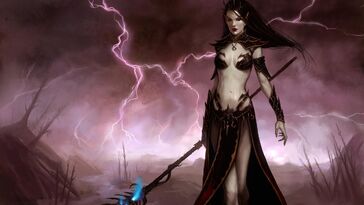 Dark is the last element and the most dangerous, the reverse of Light and the final branch of the Theos magics. It is the manipulation of entropy and destruction, fueled by sadism and cold hatred. Dark Mages are those who accept the shard of evil in them and use it to fuel their incredible power, fighting for the right side, but for all the wrong reasons.
Using Darkness is tempting, because of the sheer power it gives, but it warps the minds and souls of the mages who partake in it, and reveals the corruption and evil that lurks within every heart.
Further Specialization
Edit
Darkness is one of the Theos elements, which means it can be combined and fused to any of the others. The possible combinations are infinite, but these are some of the more common examples:
Secondary Specializations
Edit
There are other, rarer recombinations of the element of Water that are mastered by fewer sorcerers, requiring additional practice.
Elementals, Deity, and Realm
Edit
The elementals of darkness are the Demons, and the God of shadows is Mephisto. The realm of dark is Hades.