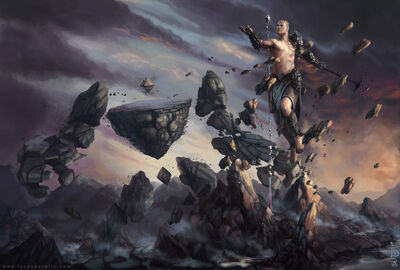 Earth is the element of calm, control, and thoughtful contemplation. Unmoving and resistant, Earth will never break or bend, and it appeals to mages with a strong sense of courage and determination. Earth is a tricky element to manipulate, because the user must have absolute faith in their ability, and unmoving determination in their cause. An Earth Mage won't use magic for nothing, but when they do, they do it with every fiber of their being.
Further Specializations
Earth is one of the four Pure elements, which in combination with the others produce Specialization elements. The variations are infinite, but these are the most common and basic Earth Specializations.
Secondary Specializations
There are other, rarer recombinations of the element of Earth that are mastered by fewer sorcerers, requiring additional practice.
Elementals, Deity, and Realm
The elementals of Earth are the Fae, and the god of the wild is Atlar. The realm of earth is Petra.