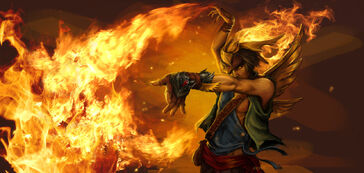 Fire is the Primal force of heat, passion, and fury. One of the Pure Elements, it appeals to mages with a white-hot temper or flickering and unpredictable personalities. Fire is a dangerous element to master, because it channels the raw emotion of the mage into pure primal power. Loss of control is exceedingly likely and when it does happen, usually catastrophic.
Further Specialization
All Pure Elements branch into an infinite array of other powers, by combining volatile elements together, but here are some of the most common specializations for Fire Magic.
Secondary Specialization
There are other, rarer recombinations of the element of Fire that are mastered by fewer sorcerers, requiring additional practice.
Elementals, Deity, and Realm
The elementals of Fire are the Dragons, and the goddess of flames is Ishtara. The realm of fire is Pyris.
Ad blocker interference detected!
Wikia is a free-to-use site that makes money from advertising. We have a modified experience for viewers using ad blockers

Wikia is not accessible if you've made further modifications. Remove the custom ad blocker rule(s) and the page will load as expected.